Smartphone brand Samsung is rolling out a software update to three of its older foldable phones. These include Samsung Galaxy Z Flip, Samsung Galaxy Z Flip 5G and Samsung Galaxy Z Fold 2 5G. All three handsets are being updated to OneUI 3.1.1. The original Samsung Galaxy Z Fold, on the other hand, will receive the update around a week later.
Samsung Galaxy Z Flip, Samsung Galaxy Z Flip 5G and Samsung Galaxy Z Fold 2 5G were launched in 2020. While the Galaxy Z Fold was launched in 2019.
Here are all new features coming with the update:
Drag & Split
With Drag & Split features, users can simply drag the link they want to check to the edge of phone's screen and open it in a new window to view simultaneously. Alternative to tabs, the feature enables users to no longer need to open up a new tab and switch back and forth constantly between windows.
Multi-Active Window and Natural Window Switching
Multi-Active Window lets one use up to three apps simultaneously on the phone's screen. Users can also adjust both the height and the width of the app windows to suit theri needs.
Natural Window Switching, on the other hand makes transitions more responsive and intuitive. With One UI 3.1.1, the window you want to move will pop up when you press down on the top handle.
Rotate All Apps
The new Rotate All Apps feature ensures smooth transition to the proper UX to match the portrait or landscape aspect ratio. Fixed apps will be rotated to 90 degrees when the feature is turned on in 'Labs'.
With One UI 3.1.1, users will be also be able to set aspect ratio for apps.
App Split View
App Split View allows one to split screen into two parts for improved viewing experience. When used with Messages, App Split View will show message list on the left of the screen and your selected conversation on the right. Some apps that don't come with built-in support for split view, users can enable the function by turning it on in 'Labs'.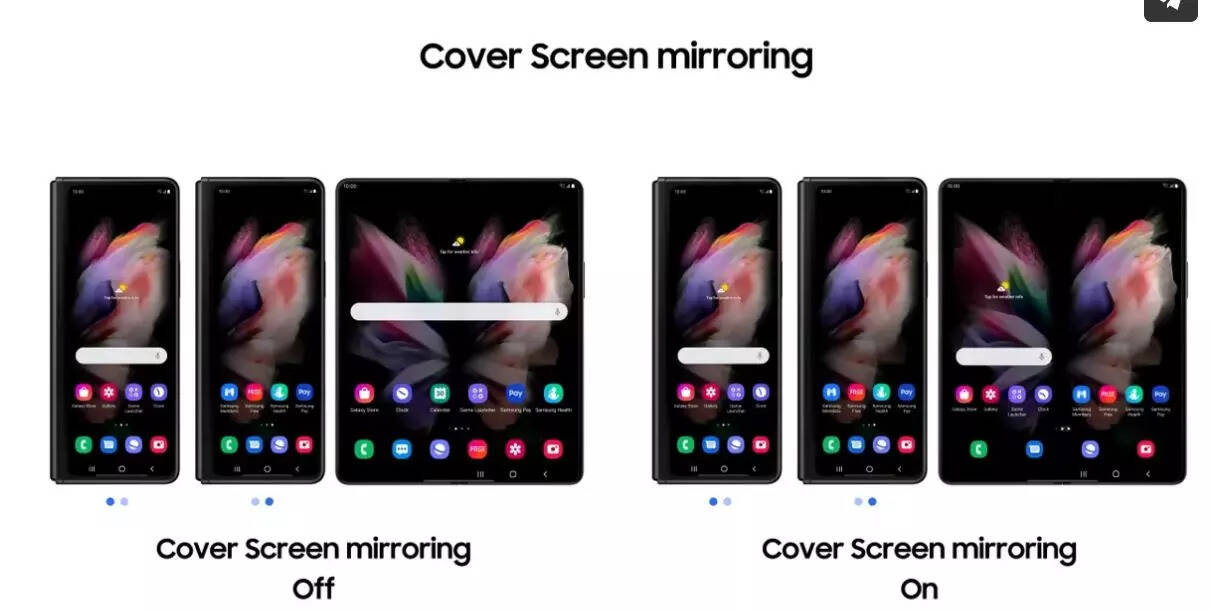 Flex Mode Panel
One of Samsung's signature foldable features– Flex Mode is available to old foldable phones with the One UI 3.1.1. The feature will enable users to enjoy easier control of media while relaxing with your favorite TV shows at the end of a long day. It can be turned on in the 'Labs' setting.
Pin Your Favorite Apps With Taskbar
With the One UI 3.1.1 update, users can pin favourite apps to the Taskbar. Taskbar makes it possible for users to switch between apps without returning to the home screen or scrolling through the Recent tab. Taskbar pins the apps to the side of the Main Screen, where Edge Panel used to be located, giving instant access to favorite apps.
Cover Screen Mirroring
Cover Screen Mirroring lets one have the exact same setup and layout of the home screen on both Cover and Main Screen. It is available under the Settings section.