NEW DELHI: India's golfing sensation Aditi Ashok was just 18 when she appeared at her maiden Olympics in Rio in 2016. Aditi had finished 41st with a total score of 291.
Five years down the line, Aditi, now 23, stunned everyone with her spectacular show at the Tokyo Olympics. Aditi narrowly missed out on a medal, finishing fourth with a three-under 68 in the final round that left her 15-under 269 overall at the Kasumigaseki Country Club.
It was heartbreaking for Aditi to finish fourth, after she had maintained second position, thereby staying in silver medal position over much of the three of the four rounds played.
The Bengaluru girl is understandably dejected with a fourth-place finish, but wants to bounce back stronger in the next Olympics – in Paris in 2024.
TimesofIndia.com caught up with Aditi to talk about her Tokyo Olympics experience, the journey from Rio to Tokyo, missing out on an Olympic medal, how she doesn't have a personal coach, and much more.
Excerpts…
You have two Olympic appearances now – Rio in 2016 and Tokyo in 2021. What have these experiences been like?
In Rio, I was as good as everyone else. I didn't have that much experience in Rio. I got to learn a lot from the Rio Olympics. In Tokyo, I didn't have good stretches, in the final two days, during the round. Still, I didn't let it go and I didn't play as bad. Rio was a huge learning experience. I gave my best there too, which was my maiden Olympic appearance. In Rio, I couldn't hold on when things got rough, maybe due to weather or my own game. In Tokyo, I could manage things a lot better. I had the experience.
(AFP photo)
You finished 41st in Rio and now 4th in Tokyo. How did you take your game to the next level?
The difference between the five years was playing the LPGA. It gave me a different experience altogether. Playing in tough weather conditions and rubbing shoulders with top golfers in the world, gave me a lot of confidence and experience. Also, getting used to that level of competition. In Rio, I was just a rookie who turned pro. In January 2016, I turned pro, which was just a few months before the Games. I had finished my high school board exams in May and in August I was at the Olympics.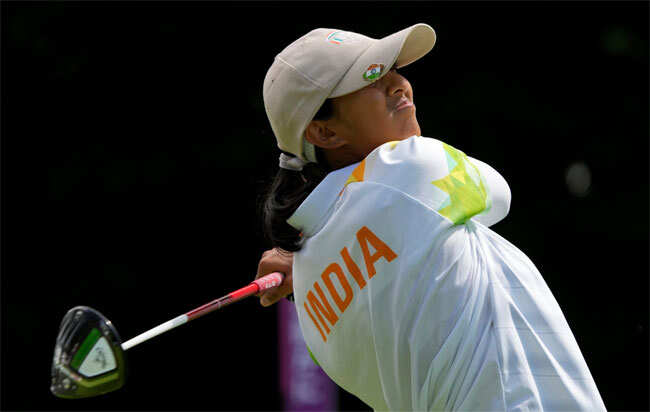 (PTI photo)
You were in medal contention in Tokyo but slipped down to fourth towards the end of round four. What went wrong?
Golf is always like that. It is just like fast-moving pieces. It was good to be in the mix and playing with the best golfers. There was the world number one, former world number one, and previous Olympic medallists too. So, it was a huge learning experience for me. I was happy that I was in contention. I was just playing my own game, concentrating on every stroke. Knowing that I could still play well among them and almost in medal contention, that was a great experience for me and it gives me a lot of confidence going forward.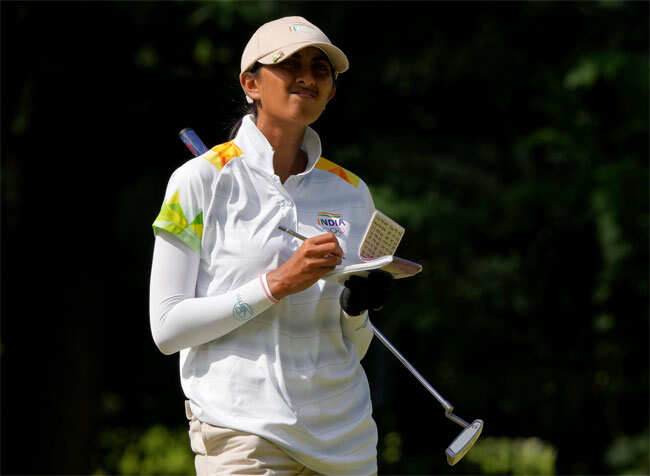 (PTI photo)
Do you regret missing out on a medal?
It's not the best place to finish at 4th. Fourth place at the Olympics is always disheartening. I don't have any regrets because I gave my hundred percent. I didn't leave anything out there. I did make mistakes, but not many. I am really happy with the way I played. I am happy with my golf. I will continue to do my hard work, will make my game better, and maybe I will have a chance to contend for a medal again.
Your father was your caddy in the Rio Olympics and your mother performed that role in Tokyo. What has the support from your parents been like?
My father was in Rio. And I wanted my mom to travel with me to Tokyo. They both have supported me a lot. I wanted my mom to carry for me and she did. It was great. I am happy that I played well with my mom at the back.
How will Aditi prepare herself for the Paris Olympics in 2024?
I am going to focus on playing LPGA and LET (Ladies European Tour). I have a lot of events this season that I am focused on. I have a few years to better my results. I have won on LET thrice, but never on LPGA yet. So, my goal is to win on the LPGA (tour). The tournaments I will play at LPGA and LET will be the preparation for Paris.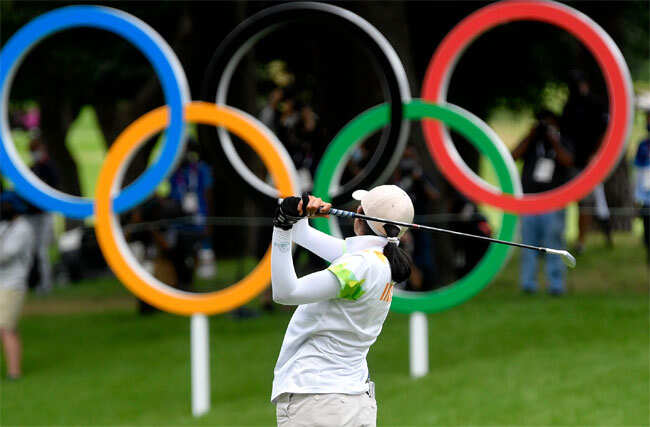 (Reuters photo)
You haven't had a personal coach since you turned professional. Do you think you need a coach?
My mom and dad are not my coaches. They have been carrying my bag. Currently, I don't have a coach. I haven't had a coach for the past 4 and a half years. I am happy with the way I have been working and playing. If I feel the need, I will, but currently, I don't need a coach.